The Faroe Islands host Pop Up Film Residency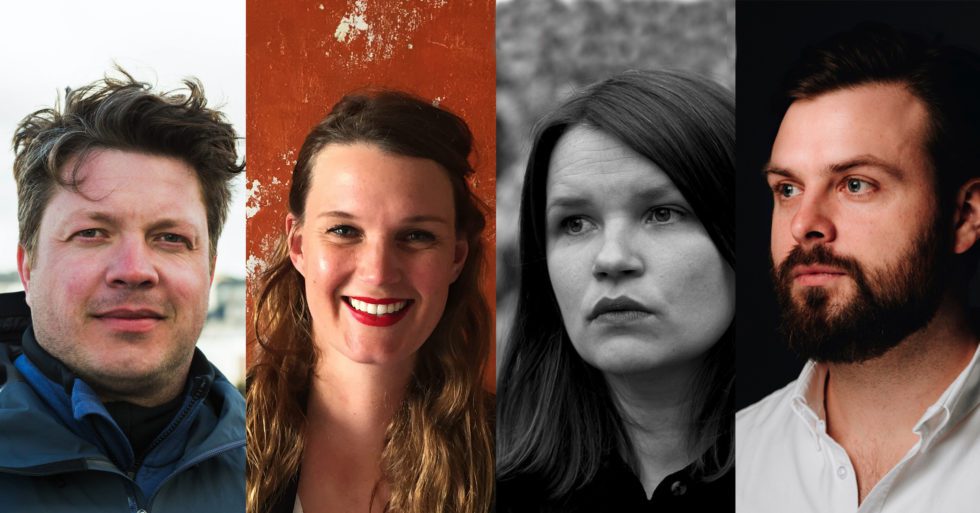 The Pop Up Film Residency to expand its network of
residencies' hosts in Northern Europe
Launched in 2019 by French film activist Matthieu Darras, together with Slovak producer Juraj Krasnohorsky, the Pop Up Film Residency is a new type of film residency.
It is run by filmmakers for filmmakers, hosts only one resident at a time for a three-week period, includes a truly tailor-made mentorship program, and can literally hatch out anywhere in the world. Residents are selected through a network of creative partners, including notably Cannes Critics' Week, Doha Film Institute and Trieste's When East Meets West.
Each Pop Up Film Residency is hosted by experienced film industry professionals, so-called hosts. In 2019, if most of the Pop Up Film Residencies were hosted in Bratislava (Slovakia), a Pop Up Film Residency network gradually fell into place.
A NETWORK THAT STARTED AROUND THE MEDITERRANEAN SEA
Interestingly, the network started around the Mediterranean Sea, when the following filmmakers decided to join the initiative at the time of Cannes Film Festival 2019:
Muayad Alayan (Palestine), Jerusalem-based director and co-founder of PalCine Productions; Myriam Sassine (Lebanon), Beirut-based producer and co-founder of Maskoon Fantastic Film Festival; Konstantinos Kontovrakis & Giorgos Karnavas (Greece), co-founders of the Athens-based production company Heretic; Ayman El Amir (Egypt), Cairo-based producer and script consultant;
As matter of fact, Pop Up Film Residencies took place in Egypt and Greece in 2019 and early 2020, hosting respectively filmmakers Koen Mortier (Belgium) and Yona Rozenkier (Israel), whereas planned residencies in Lebanon and Palestine had to be adjourned temporarily due to local circumstances.
NEW RESIDENCES' HOSTS IN NORTHERN EUROPE
Most recently, new industry professionals committed to host Pop Up Film Residency programs in near future. This time around, the hosts – all producers – are based and active in Northern Europe, around the Nordic & Baltic seas.
They are:
– Katja Adomeit (Germany/Denmark) and Pål Røed (Norway), who both founded their respective production companies that they currently lead (credits include features by Shahrbanoo Sadat's The Orphanage or Anna Eborn's Transnistra for Katja, and Prix Europa-nominated series Monster or Netflix-premiered feature Battle for Pål), and who will co-host Pop Up Film residencies in their property situated on the island of Funen in Denmark;
Quote from Katja Adomeit:
"I have been involved with the Pop Up Film Residency since its beginning. Matthieu wrote to me one day, telling if I'd like to pay my own trip to be an advisor in Bratislava for a project, that was yet to be chosen. Of course, I wrote back and did not regret it. Matthieu, his ideas, his work, his taste, and his consultancy are absolutely amazing. And the exchange with the filmmakers and professionals inspiring. When my partner and producer Pål Røed and I bought a house in the countryside in the "Alps of Fyn", Denmark, which comes with an extra little house, it was clear from the beginning, that we would like to host residencies."
– Jón Hammer (Faroe Islands), who decided to relocate to his native Faroe Islands after six years working for Zentropa, establishing his own production company Kykmyndir. His projectThe Last Paradise on Earth (to be directed by Sakaris Stórá) won the VFF Talent Highlight Award at the Berlinale Co-Production Market 2020.
Quote from Jón Hammer:
"I'm thrilled to be able to host a residency in the Faroe Islands. As filmmakers working in a (very) small country, connections to Europe and the rest of the world mean everything for our ambition to develop a local film culture. The residency is a great opportunity for our local talent to connect to international filmmakers and to learn from them, as well as providing us with an opportunity to present our own culture to others."
– Marija Razgutė (Lithuania), founder of Vilnius-based M-Films, notably produced Nova Lituania by Karolis Kaupinis (Karlovy Vary 2019) and Summer Survivors by Marija Kavtaradze (Toronto 2018). She already organized a film residency for Baltic short film project, and is Producers on the Move 2020.
Quote from Marija Razgutė:
"I have joined the circuit of hosts at Pop Up Film Residency as I truly believe in the core of it: 'by filmmakers for filmmakers'. We, as professionals, need to support each other very much – especially in these turbulent times like it is today. As a producer, I am convinced that every script deserves its time, dedication and energy, so I am very happy to be able to give an opportunity for talents to develop their films here in Vilnius."
Marija Razgutė will be the first new host to welcome a Pop Up Film Residency, welcoming in Vilnius Esmir Filho, a Brazilian filmmaker working on his third feature, as part of the Pop Up Film Residency Paradiso organized in collaboration with the Projeto Paradiso for the second year.
Contacts:
Matthieu Darras – matthieu.darras@popupfilmresidency.org
Phone: +421 9 4848 5751/ www.popupfilmresidency.org